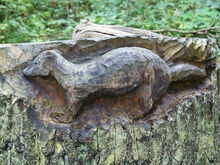 The Epic Of The Boy is an epic poem written by Riley the ferret, featured on a secret page on his blog (http://spicemerchant100.tumblr.com/story), released on January 29, 2016, which tells the story of Riley's creation and life, as well as his falling-out with his former business partner, Johnny.
Full Text
Edit
"Once Upon A Time Long Pass
A Few Big Boy Did Stand Agast
A Fearfull Event Soon Come To Pass
The People Make There Choices Mass
Cling Together With There Souls
Hope To Avoid Deadly Colds
Riley Born From The Ashen Waste
Spirit Of Woe And Soul Of Haste
Combine Souls With Soul Of Self
Makes For Strength And Good Boy Wealth
Crafted By Good God Anu
To This Big Legend Rings True
Crafted Of Cool Solid Bronze
Lapis And A Spice Melange
Psionic Power Rings Through Sands
New World Feature's New Ruling Hands
Put Upon The Rolling Dunes
O'er Stone With Holy Runes
He Finds Himself With Ferret Friand
Rowd Around Until Time Began
Boy Emerge At Time Of Frog
When He Was Young, He Hop On Log
Journey For Aeons Late
Until Find Oasis State
Hub Of Sale, He Learn'd His Trade
Something Which His Brethren Forbade
True To His New Craft, He Ventured 'Round
Until He Hear A Whistling Sound
That Sound He Found Was A Brown Bear
Jast Sleeping Around Within He Lair
A Baby Boy Johnny Was His Name
Selling Spice Was Also His Game
The Two Ventured Together Through And Through
A Bond So Tight Nothing Separate The Two
Until They Heard 'Nother Whistling Sound
But No Friend Was Abound
Upon That Day The Empire Fell
The Two Friend Greed Made Spice Sale Unwell
For On That Day They Found Their Lead
A Holy Blessed Pepper Seed
Within The Temple, Made Of Stone
A Bag Of These Did Stagnant Roam
And Beneath Those Sand Seeped Stone
The Two Friends Fought, Were Driven Alone
Make Of With Spice That Johnny Did
Go Away And He Did Hid
Now Riley Search For Greater Spice
Prove To Johnny He Is More Nice
For If Johnny Fulfils Pepper Curse
All Things In Sands Become Much Worse
A Death Of Eternal Harmony
Will He Succeed, We Will See
For Now Riley Freely Roam
Without Shop And Without Home
But Still Fire Burns In Heart Bright
Get Ready To Smunch Big Bear Some Night"
Ad blocker interference detected!
Wikia is a free-to-use site that makes money from advertising. We have a modified experience for viewers using ad blockers

Wikia is not accessible if you've made further modifications. Remove the custom ad blocker rule(s) and the page will load as expected.