Gerold
Gerold.
Species
Lowland Tapir
Business
N/A
Blog
N/A
Gerold is a lowland tapir who is one of Seymour's cousins. Not much is known about Gerold, other than him enjoying the company and presence of birds as well as him and Seymour having a very rocky relationship (Gerold often partakes in the act of "Tumpus Smænching", a practice that consists of "Dark Sniffings" according to Seymour). Gerold has appeared in a few asks, but not much else besides the "Tumpus Smænching" post. Seymour has insulted Gerold for "smænching (his) tumpus", going as far as telling Gerold "hell to you", "fool", and "dullard".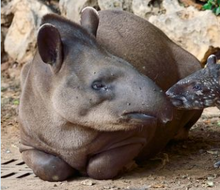 Ad blocker interference detected!
Wikia is a free-to-use site that makes money from advertising. We have a modified experience for viewers using ad blockers

Wikia is not accessible if you've made further modifications. Remove the custom ad blocker rule(s) and the page will load as expected.