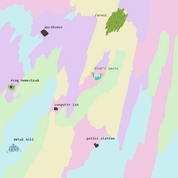 Does anyone know how to change the "Sandsverse Wikia" header to an image? Thanks
For new merchants, a guide for writing your own page is here.
The world of These Sands, and the many merchants that reside within it. Please feel free to add your own merchant page, and develop on the existing pages.
Visit our Forum!
Rule
It should be noted that by now, canon and non-canon merchant blogs have taken two different forms. Please keep both universes in their separate categories (Visit the guide to help with categorization).
Ad blocker interference detected!
Wikia is a free-to-use site that makes money from advertising. We have a modified experience for viewers using ad blockers

Wikia is not accessible if you've made further modifications. Remove the custom ad blocker rule(s) and the page will load as expected.